Since 2014, hundreds of students taking my online course "Get Over Your Partner's Past Fast" have shared their retroactive jealousy success stories with me.
Being the author of the best-selling guidebook on overcoming retroactive jealousy, and the creator and host of the most popular online course on the same topic puts me in a unique position. Over the years, I've read and listened to hundreds of retroactive jealousy success stories.
Since 2013, I have received hundreds of emails, course reviews, and testimonials that prove that a) my experience of overcoming retroactive jealousy was no fluke, and b) just about anyone can overcome retroactive jealousy with the right tools.
Few things are more satisfying to me than receiving retroactive jealousy success stories in my email inbox.
Simply put: I love seeing, hearing, and reading your retroactive jealousy success stories.
In truth, this is a big reason why I created this site, write my books, and designed my courses.
As I'm sure you can appreciate, retroactive jealousy is an intensely personal and often embarrassing experience for the sufferer. Sharing retroactive jealousy success stories requires a lot of trust, and courage.
Thus, some names of my students sharing their retroactive jealousy success stories have been changed/omitted in order to protect their anonymity.
It IS possible to overcome retroactive jealousy… Do the work, and you will NOT regret it.
The difference I feel is night and day… If I had known what the course was going to do for me, I would have paid thousands of dollars for it. Worth every penny.
I finished the course in a week and a half. It was an instant help… I have made leaps and bounds from where I was. You gave me the tools to fix this.
You're the person who got me over something so difficult, something so miserable, and now it's finally over. Thank-you so much, Zach.
If I hadn't taken the course, my relationship would be over. It's been a bit of a lifesaver, really… Do the course!
I started the course a month ago, and my relationship is the best it's ever been… I can't recommend the course enough. It's given me my life back.
Zach has done far more for myself, and many others with his program than you could ever imagine…
It's a night and day difference, the way that I feel… I've never been more at peace… It's an amazing thing, just feeling free.
After [taking the course], I just felt free… I'm the happiest I've ever been because I can be in a relationship and be happy in it. It's not tense and awkward situations anymore. It's just happy.
I felt hopeless… And [your work] changed my life. It was everything I wanted to feel, but couldn't put into words… I benefitted so much from it… I'm now enjoying my life again.
From the moment I started [Get Over Your Partner's Past Fast], that's when I stopped having intrusive thoughts… The course alone stopped me from thinking all of those thoughts…

I'm so glad I found [the course]. It's life-changing.
I'd been experiencing 'retroactive jealousy' for the better part of 30 years… And there's a calmness now that I've never felt before…

It allows me to really enjoy my relationship in a way that I hadn't been able to do until buying your course. That's made a big difference to my life.
Those "mental movies" of my girlfriend with another guy… that was very bad.

Today, I feel free, I feel capable… [The course] changed my life, absolutely. I would have paid 10 times what I paid for the course.
I'd been a RJ sufferer since I was a teenager… I signed up to the online course, and you provided me with the best tools I could possibly find. It's been a huge game-changer for me.
I was in a very dark place with RJ. And two months later, it's night and day. My life has gone back to normal… My relationship with my wife is the best it's ever been.
I wish I would have found [the course] sooner. Thank-you so much.
The "mental movies" playing on and on… It destroyed me. I just couldn't get things out of my head.

Now, it's night and day… Finding the course is probably the best thing that ever happened to me, to be quite honest.
The biggest thing for me was the "mental movies…" Just, constantly ruminating… You think you're going crazy.

Working through the course, everything felt a thousand times better… This program goes so much deeper than just trying to get over jealous thoughts… I'd recommend it to anyone, 100%.
For the price, and what [the course] brought me, it was a huge bargain…

[Overcoming] retroactive jealousy is a gift in a sense that it is a "door" to an entirely new version of yourself that is more happy, more fulfilled…

And that's when retroactive jealousy gradually disappears.
I thought that I was "stuck" with [retroactive jealousy] for the rest of my life. And I took the course, and now I feel really good. I'm really happy in my relationship.

If [the course] can help me, it can help anyone.
I went from a 10/10 on the retroactive jealousy 'scale' to 0.5/10 in less than a month with the help of the course…

If you're as bad as I was, then getting the course is going to help you knock [retroactive jealousy] out.
Take a peek inside our private Facebook group for students taking
my introductory course:
In the slideshow below, you'll find more retroactive jealousy success stories and course reviews:
(Click on the image to enlarge)
This slideshow requires JavaScript.
Here are dozens more retroactive jealousy success stories from my email inbox:
(Identities hidden to ensure privacy. Click on the email screenshot to enlarge)
I cannot believe the difference in how I feel… I took the course and followed your guidance, and it really is a miracle worker. The coping mechanisms and teachings are so well thought out to produce fast and long-lasting effects.

I know you get a lot of emails but I think you actually saved my life, not even kidding… I think I'm healed.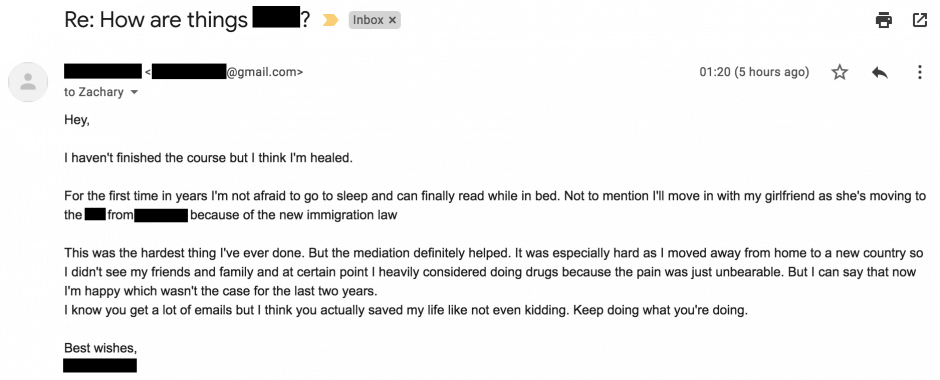 I have already found some relief and I am less than 30% through the course! I am confident that with your guidance I will get past this…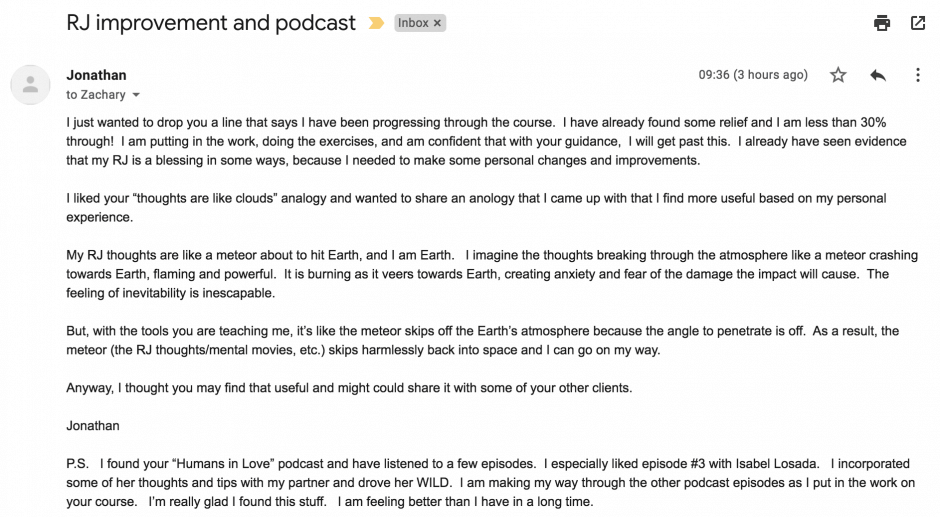 Your course has helped me… The last week has been amazing for me and has eased my RJ more than I could have imagined.
Your course has been of great benefit to me… You have given me strategies to overcome all obstacles.

Your work on retroactive jealousy is nothing short of brilliant. It has helped me tremendously.

I just completed your course and I just wanted to say how much its helped me over the last month…

I'm having a great time with your course… Not only has it helped with retroactive jealousy, but I also use a lot of this advice for my everyday life.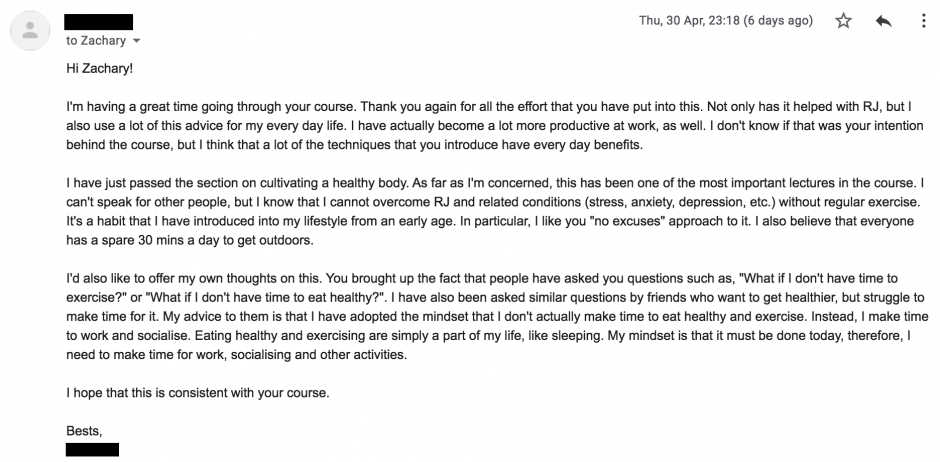 Your program really works!… It's amazing how easy it is to reprogram the mind.

Now I am not making any problems with his past… The things I thought would never change changed very fast…

Life-changing course… I've already used your techniques to stop RJ in its tracks!
It took around two weeks to go through the online course and I have noticed a significant difference in myself… Worth every penny.
I wanted to tell you that I am completely healed…
One of the best weeks I've had in months. I've started your program and I am already seeing results…
I don't know if I can ever say enough about the gratitude I feel for you and the work you have done on this subject…
I am making great progress and I am in a much better place than I was in a few weeks back… Doing so much better.
Getting better thanks to your course… Thank you so much!
If you have jealousy, even at all, you've just found the antidote…
I feel like I can finally see the light at the end of the tunnel… The past few weeks have been amazing and my partner has noticed it.
I feel that a weight has been lifted and I can finally do something about it.

I've probably gone through the worst experience of my life, and your course has definitely helped me get out of that hellhole.
Since starting the course, I've had a couple of events that triggered feelings of RJ. When applying what I learned from you, it went away and I felt better within minutes… The homework pays off and the joy that is brought to one's life is unexplainable… I LOVE this course.
I'm not even halfway through the course yet and I feel better than I have in years…
Your course was phenomenal… Going strong for 8 months now with my girlfriend, and everything is awesome!
I am doing so much better since I have listened to your lessons… In a really good place right now.
Your course has really helped me… This is the most confident I have ever felt and my jealousy is quickly fading. I feel like I'm almost over this now.
I am so much better than I have ever been… I have literally never been more at peace. Thanks for everything.
I once thought I was doomed, and that I was going to have to leave the woman I loved… Your course really helped me through that time and it was worth every penny.
I haven't felt this good in 13 years. Nothing has worked like this program has…
I am thrilled with my progress in just 3 short weeks… Life is pretty good right now and I intend on it staying that way.

I really want to thank you for putting together such a great course… I did start to feel better immediately… Your course has provided a roadmap that I did not know existed before..

Your course helped my progress immensely… I'm usually very skeptical of these types of courses, however yours was a lifesaver.. I'm very, very happy with my wife and the life we are living and I owe a big thank you to you!
The course is helping me a lot!… Honestly, solving this problem has been so helpful to my productivity and happiness.
I can't thank you enough for putting this course together. It has helped me grow so much and completely changed my perspective on my life…
Thanks for the course. I'm finding it really effective. It's really helped me get a handle on my RJ…
Read below for more retroactive jealousy success stories from my inbox:
Kate, from the US, writes:
I am making really great progress and I am in a much better place than I was a few weeks back.

I am working through the course which is helping greatly and doing my best to practice everything you are outlining.  I am also reading the books you have recommended such as The Power of Now which I am finding a great help. 

I still have a bit to go but my jealous thoughts are getting less and less. They aren't controlling every minute of my day which is a HUGE relief.  I was off work for just over a month due to the stress and anxiety of RJ but I am so pleased to tell you that I have returned over the past week and am doing so much better. 

I am actually able to happily get on with my day without RJ distracting me ALL the time.  I am also finding the private Facebook group to be of great help! Thanks for everything.
Derek, from the US, writes:
You gave me the tools I needed to start moving in the right direction.

And my fiancé had such great patience with me. She had been through what I was dealing with in a past relationship, and she knew that she wanted us and wanted this to work. I don't know if I can ever say enough about the gratitude I feel for you and the work you have done on this subject. 

All the extras you send have even led me to a life with more balance and a greater appreciation for women. Thank you. Thank you for helping me. Thank you for making me feel like I wasn't crazy or alone. Thank you for putting in the work to help others.
Cathline, from the US, writes:
My retroactive jealousy was out of control for a decade.

But after putting in the work, I am becoming a new woman. People are noticing. I exude confidence. I still have moments where RJ rears its ugly head but I can quickly stop it.

I suffered so deeply for so many years but I believe I will suffer no more. All because of your guidance. My relationship is better but more importantly, I am better. In all honesty, I didn't believe I would ever get better. But in only about a month, I am a new me. Thank you. A thousand times over, Thank you Zachary.
John, from the US, writes:
I don't feel alone, or powerless anymore.

I've ruined my past 3 relationships due to my RJ and the implications I would put on my SO and force them away from me. I feel like I now have the opportunity to fix myself and to truly improve.

I started working out again 8 months ago after my ex broke up with me. It brought me great depression for months, even caused a suicide attempt because it hit me so hard, we only dated for a year and a half, but I had fallen in love with this girl and could not get her out of my mind. So much so to the point that her past was deeply haunting me, every waking moment my heart would ache picturing her with someone else. These problems started to occur with my current girlfriend, not as severe, but enough to cause the odd fight here and there which resulted in her being exhausted with my childish and immature behaviour.

I went through months of self reflection in order to rearrange my life to get the nerve to get back in shape, and to get the attention of the opposite gender. I am now with the girl of my dreams, and I feel like I can overcome the problem that kept coming back and ruining my relationships. Thank you for all your tips and help, I seriously cannot thank you enough for making it possible for my love to not be a curse.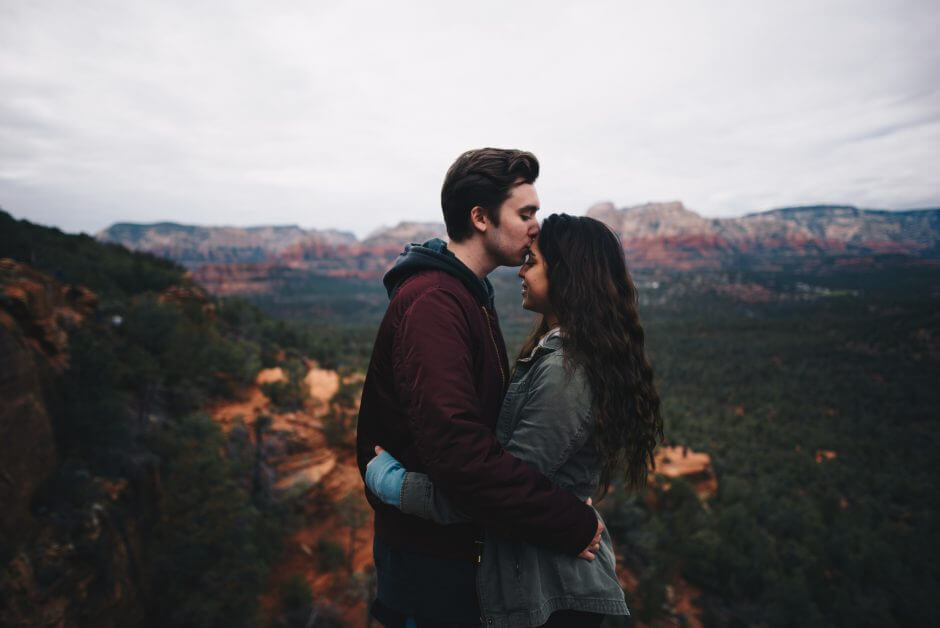 Julie, from the US, writes:
Zachary, You have changed my life.

You saved me from myself.  I'm so grateful to you and so is my partner. I'm a new woman. So happy, relaxed and feel I can achieve whatever I want. It's like you have read my mind. You have described me perfectly. Not only my jealousy but my personality too. 

Some of the course was a slap in the face but I needed it and I'm awake now. My partner wants to buy you a beer. You saved us. You saved me. Thank you so much for doing what you do.
I've received many emails from South Asians sharing their retroactive jealousy stories. Thinesh, from India, writes:
I started the course just over two weeks ago and everything you discussed completely resonated with me.

It truly felt like you were telling my own story back to me. Two weeks have passed and I have finished the course with ups and downs along the way… I'm now at a point where I am thinking much less about the past and focusing on the future. Of course there are still thoughts that cross my mind, but I feel like I am better equipped to manage them.

Once again, thank you for putting this course together, I know that it has helped me immensely and I'm sure will continue to help many more in the coming years.
Stefan, from Germany, writes:
I wanted to tell you that I am completely healed…

I even make jokes with my girlfriend now about her past lovers…

I must admit that at the beginning I didn't really trust the promotional video for the course – I am a tough customer – yet I decided to enrol out of desperation. I feel like a new person now. As you said, retroactive jealousy is sometimes actually the "tip of the iceberg," and I have been able to work on the deepest sides of myself. It may sound like a cliche, but your course has been a path to enlightenment.

I am very grateful to you and I hope you will keep the flame alive. 
Nina, from Canada, writes:
Thank you so much, from the bottom of my heart.

I spent all Saturday reading your book and following each and every step. I've been meditating, working out, eating right, and working through the exercises. I know its barely been any time, but I feel like my old self again.

What's more than that, I felt myself slip into a dark mood on Monday, and I OVERCAME it!!! In the same day. Without talking to my partner. Wow. 

And I know that its working, because already my relationship has changed. Things feel so relaxed between us, and I can really feel the attraction naturally flowing between us in a lovely way. I just feel so much relief.
Casey from the US writes:
Thanks for checking in! I'm doing great this week.

One of the best weeks I've had in months. I've started your program and I am already seeing results. My triggers are getting less and less prominent and the length of anxiety when the triggers do get to me is much shorter. 

The anxiety used to ruin my day but i am feeling much stronger and more in control of my mind.

I'm not very far into the program but I have been working on the mindfulness and being in the present moment and not thinking into everything. It's working great. Thank you so much for your program. I know by the end of this I will be RJ free.
Shawn from the US writes:
I found your course the other day and it spoke to me in a way nothing has in the past 25 years.

It helped tremendously to see that so many others have experienced what I have been living with, and that it isn't that out of the ordinary.


It helped me to see that, even though I know that the problem is mine, it doesn't mean that I am insane or evil or a terrible person or what have you, just that I have a problem I need to take care of…

For the first time I feel hope that this won't be something I will be stuck with until the day I die. Hope that barely coping, which was all I thought I would ever be able to do, will not be the only way I can deal with this. Hope that I can get past it as you and others have done, and make something more of myself and my life and my relationship. So thank-you.
Nicky from the UK writes:
My RJ hit me like a ton of bricks one day and gradually got worse to the point I could no longer function on a day to day basis.

I couldn't eat, sleep or work. I thought the only way out of this hell was to break off my relationship and start a new one, making sure I knew nothing of her past, not a very realistic goal considering the age we live in with Facebook, Twitter, texting etc…

I decided to change who I was and hold on to my current girlfriend, but I needed to change the way I thought and process emotions, that's were Zach's course came in.

As long as you follow the exercises and do exactly as he lays out for you in simple steps, you will beat RJ. I haven't even changed who I am, just challenging my insecurities was enough to get the ball rolling. The biggest part for me was learning to meditate (which until a month ago I thought was new age fluff). This was not easy for me to do as my mind was so over active any doctor on the planet would have prescribed me medication, and they tried. But I can now empty my mind completely and bring myself to the present moment. I can now observe feelings and thoughts and let them pass without having any emotional connection to them, rather than letting them rule my life like they used to only a few weeks ago.

I can guarantee that my RJ was worse than most, and yet today I can look back at myself only a short few weeks ago and laugh at the some of the things I used to freak out about.

This is the best online course you will ever find if you suffer from RJ, and the private Facebook group Zach has set up for fellow students is really helpful.

I cannot speak highly enough of this course, it saved my relationship and how I go about life in general now is much healthier.

Thank you Zach for changing my life 🙂
Richard from the UK writes:
I came across both the course and Zach's website on the internet and I was immediately struck by how different this was to anything I'd found previously.

I started with the book which in itself is excellent, but that lead me on to the course which contains a massive amount of useful information and insight.

The course is split into over 30 modules which are generally around 10-15 minutes long but all of which contain useful tools , advice and support. I completed the course quite quickly but over the following weeks I revisited each module again, often more than once. Each module contains exercises that need to be done for the course to be effective and I am continuing to work on these.

Zach presents each module in a very structured and well thought out way. He talks in plain English and inspires a lot of confidence. From my own point of view, I often find I feel better simply listening to him speak if I'm having a bad day as I've found it helps me to refocus and push on with dealing with the problem.

I'm not going to say that this course contains some magical cure because that's not what it's about. What it does contain in spades is a huge amount of empathetic advice and a very effective set of tools to enable you to deal with the issue. As Zach stresses throughout however it is important that you put in the work to get through this.

I'm still working on my own issues but I now feel more empowered to deal with them having read the guidebook and taken the course. I would really recommend this to anybody who feels that they are struggling with retroactive jealousy. The internet contains large number of forums on this subject but I'd steer clear of them. They simply do not get to the root of the problem as this course does and often I found made me feel worse because they are peppered with extremely poor advice. This course is a far superior option.
Click here to see even more retroactive jealousy success stories, and learn more about my online video course, "Get Over Your Partner's Past Fast."